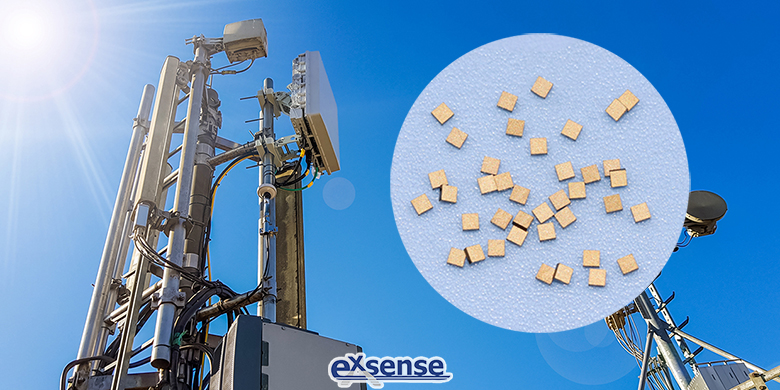 EXSENSE Electronics Technology Co., Ltd. has focused on the production and development of optical module thermistor chip for 14 years, our optical module thermistor chip, with characteristics of high accuracy (accuracy can up to ±0.5%, ±1%, ±3%), high sensitivity, great reliability, good heat cycle capacity, stable performance and so on, which is suitable for optical module, laser module and so on.
At present, due to the development of 5G mobile mobile networks, Countries in Europe, America and Japan are constantly integrating to seize the next generation of optical communication market. Due to the transparent price of low-end products, many overseas enterprises cannot accept the excessively low gross profit margin, in turn they shed the optical module business and focus on chips or keep high-end products. Overseas optical module manufacturers are basically capable of self-research of optical chip. Optical module is mainly used in telecommunication market and digital communication market, so its models are scattered and various. Therefore, in order to enrich product categories and quickly meet customers' various requirements for product models and specifications, and at the same time, affected by the low OEM willingness of optical chip market enterprises, various optical module manufacturers have begun to layout upstream and start to develop their own chips. Overseas optical module manufacturers basically have their own optical chip production lines, carry out the whole industry layout, products can be quickly iterative, to seize the market.
Foreign manufacturers led the development of silicon optical technology, and the vertical integration of industrial chain accelerated. Its core idea is "Replace electric energy with optical energy", optical and electronic components are integrated into a single microchip, using laser as the information transmission media, enhance the connection between the chips speed, low power consumption, compact structure, high rate such outstanding advantages, is expected to solve faced by information network, power consumption rate, volume, etc, the key technology of the bottleneck. Based on these advantages, in addition to a number of traditional optical chip, optical device manufacturers are in advance of the layout, some main system equipment manufacturers have also joined the silicon optical battlefield. However, the current silicon-optical technology is not yet mature and there is still a long way to go before it can be applied on a large scale.
In recent years, the size of Chinese optical communication devices market keeps the same growth trend with the world, and Chinese optical communication devices market accounts for about 25%~30% of the global market share. However, although China has the world's largest optical communication market and high-quality system equipment suppliers, the global share of Chinese optical communication device industry does not match the existing resources. From the perspective of chip manufacturing, the localization rate of optical chips with a rate of 10Gb/s is close to that of 25Gb/s and above, which is far lower than that of 10Gb/s. Domestic suppliers can provide a small amount of 25Gb/s PIN /APD devices, while the electric chips used in 25Gb/s rate module are basically imported, so there is still a great room for improvement in the domestic self-sufficiency rate.
In addition, the industrial chain of electric chip includes the links of IC design, wafer manufacturing and processing, encapsulating and testing, which also have complex processes and technologies. It is necessary to improve the short board of the entire semiconductor industry chain, and the replacement of domestic products still has a long way to go.