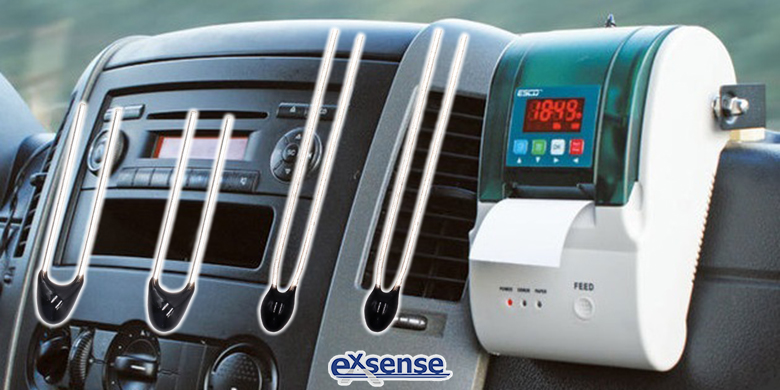 With the growing maturity of the cold chain transportation industry, because of its small size, reliable performance, simple operation etc., temperature recorder is widely used in temperature and humidity data record in the process of fresh products, processed foods, pharmaceutical products and other products of cold chain transport. Its usage scenarios involving refrigerated containers, refrigerated trucks, refrigerated storage, laboratory, etc. in cold-chain transportation. Due to the temperature recorder has a high requirement on the precision of ambient temperature and humidity, NTC thermistor is required to play a role in temperature monitoring to ensure the precision of data recording.

Temperature recorder adopts high-precision NTC thermistor, the precision can reach ± 0.5%, and its high sensitivity can timely help real-time data records of temperature and humidity. Temperature recorder can avoid in the process of long distance transportation and ocean shipping, due to too high or too low in the warehouse temperature and humidity, caused directly or indirectly affect the quality of the goods transported. Temperature recorder can not only meet the needs of various temperature and humidity records, but also output data in the form of curves, reports, etc. The staff can analyze and statistics the data in real time, and can transmit the data to the data system for archiving through email. The use of temperature recorder can not only improve the working efficiency, but also won't be disturbed by too many human factors, which also can reflect the recording process in time, objectively and truly. This effectively avoids disputes between the carrier and shipper of cold chain transportation due to changes in the quality of the goods transported, or making it difficult to judge the responsibility.

LT series epoxy resin coating NTC thermistor produced EXSENSE Electronics Technology Co., Ltd., with characteristics of high precision, high sensitivity, small size, rapid heat sensing, etc.,which can play a role of temperature detection in the cold chain transport.